Birding and nature outings in Humboldt County, California, and beyond
Ken Burton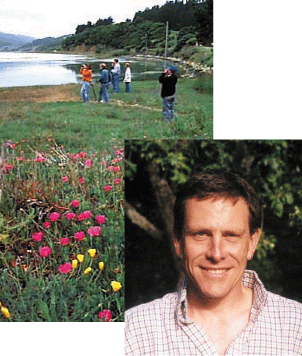 Humboldt County is a birder's and nature lover's paradise. We have some of the world's tallest trees, miles of unspoiled coastline, and lots of public land including a national park, 13 state parks, two national forests, and a national wildlife refuge. The wildlife viewing opportunities are incredible; for instance, nearly 500 bird species have been seen here! At any time of year, it is possible to see over 100 in a day. Seals, whales, otters, elk, and bears are also abundant. Let me share them with you!

I can do tours in other parts of California as well. My Experience My Rates and Availability
Possible destinations
Birds Clients' comments
Contacting me


I have been birding actively since 1981 and have worked professionally as an ornithologist and guide since 1987. I live here and know the area inside and out. I am a field trip coordinator for, and the past president of, our local Audubon Society chapter and have led birding and nature-study trips here for the following groups:
Aleutian Goose Festival
California Redwoods Bird & Nature Festival
EduQuest
Friends of the Arcata Marsh
Godwit Days Spring Migration Bird Festival
Humboldt State University
Marin Audubon Society
Redwood Region Audubon Society
Siskiyou Field Institute
The Wildlands Conservancy

My rates, for any number of people, are only

Half day: $100.00
Full day: $175.00
Two days: $300.00


For liability reasons, I cannot provide transportation.
I can customize your tour to focus on certain species or habitats, or we can take a less-focused approach and simply go exploring! Our choices will, of course, be influenced by the season and the weather.


If you have questions or wish to book a tour, please contact me at 707-499-1146 or by email to birdingguide @ gmail.com.
Visiting Humboldt County
Birding in California


Thanks for visiting!
PHOTO CREDITS: Flowers and birders, Jim Irwin; Portrait, Linda Suhr; Group with scopes, Wendell Wood